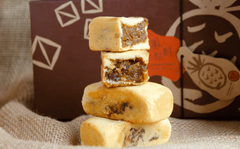 If you're looking for a sweet, delicious treat with a distinctly Taiwanese flavor, look no further than Pineapple Cakes (a.k.a. Pineapple Pastry/Cookies). At Sheng Kee Bakery, we take great pride in crafting the very best Pineapple Cakes for our customers.
Pineapple cakes are a beloved Taiwanese snack that originated in the city of Taichung in the 1920s. Made with a buttery, crumbly pastry crust and filled with sweet, chewy pineapple jam, these cakes are a favorite throughout Taiwan and beyond.
At our bakery, we use only the finest ingredients to make our pineapple cakes. We start with fresh, ripe pineapples and cook them down into a thick, sweet jam. Then, we make our pastry crust by hand using a special blend of flours and butter to achieve the perfect texture and flavor. The result is a delectable treat that perfectly balances sweet and tart flavors.
Our Pineapple Cakes are a popular item all year round, but they're especially popular during the Mid-Autumn Festival, which is celebrated throughout Taiwan and other parts of Asia. During this festival, families gather together to eat mooncakes and other sweet treats, and Pineapple Cakes are always a hit amongst people of all ages.
Whether you're celebrating a special occasion or just looking for a sweet treat to enjoy with friends and family, our Taiwanese Pineapple Cakes are sure to hit the spot. Stop by our bakery in San Francisco to try them for yourself, or order online and have them delivered straight to your door. With our commitment to quality and tradition, we hope to satisfy your palate!
Please come to our stores and try some today! (Gift Box available for purchase on ShengKee.com)