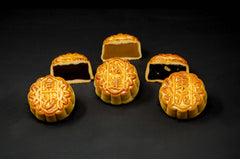 Mooncakes are a traditional Chinese pastry that has been enjoyed for centuries during the annual Mid-Autumn Festival. These delicious treats are round or square in shape, commonly with scalloped edges, with a thick pastry crust and a rich, sweet filling. While they originated in China, mooncakes have become a beloved treat around the world, and Sheng Kee Bakery in San Francisco is proud to have been one of the pioneers of mooncake crafting and distribution in the United States.
Founded in Taiwan in 1948, Sheng Kee Bakery has always been focused on preserving the cultural heritage of traditional Asian pastries and desserts. When the first wave of Asian immigrants began arriving in San Francisco in the 1980s, they brought their love of mooncakes with them. But back then, it was difficult to find a high-quality mooncake in America. That's when Sheng Kee Bakery stepped in to fill the gap.
Over the years, Sheng Kee Bakery has perfected the art of crafting mooncakes, using only the finest ingredients and traditional techniques. We offer a wide variety of flavors and styles, including classic flavors like lotus seed paste and egg yolk, as well as more modern twists like Jasmine Green tea and Fruit Mooncakes.
What makes Sheng Kee Bakery's mooncakes stand out is our commitment to quality and authenticity. We use only the best ingredients, like premium lotus seed paste, to ensure that each bite is rich and flavorful. We also make our own egg yolks and mix them with the lotus seed paste to create the perfect balance of sweetness and saltiness. And we never cut corners when it comes to the pastry crust, which is made with a special blend of flours and oils to achieve the perfect texture and flavor.
Today, Sheng Kee Bakery is a well-known name in the Bay Area and beyond, with multiple locations throughout California and a thriving online business that ships mooncakes all over the country. But no matter how much we grow, we always stay true to our roots and our commitment to preserving the cultural heritage of Asian pastries and desserts.
So if you're looking for a delicious taste of tradition, look no further than Sheng Kee Bakery's mooncakes. Whether you're celebrating the Mid-Autumn Festival or just looking for a sweet treat to enjoy with friends and family, we've got you covered. Try our mooncakes today and taste the difference that quality and authenticity can make!
Sheng Kee Online Store opens for Mid Autumn Festival and Lunar New Year every year! We ship Mooncakes and Pastries nationwide.