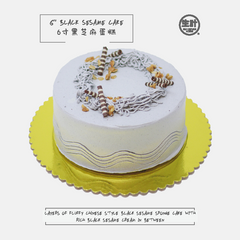 Sheng Kee Bakery's exquisite creation – the 6-inch Black Sesame Cake. This decadent delight is a testament to the bakery's commitment to crafting desserts that not only satisfy your sweet tooth but also leave an everlasting impression. With three luscious layers and a velvety black sesame cream, this cake is a true masterpiece.
What truly sets this cake apart is the luxurious black sesame cream that envelops each layer. Silky, smooth, and rich in flavor, the black sesame cream is a celebration of one of Asia's most beloved ingredients. The earthy, nutty notes of black sesame harmonize perfectly with the sweetness of the cake, creating a delightful contrast that lingers on the palate.
Whether you're marking a special occasion or simply craving a moment of indulgence, the Double Up! Black Sesame Cake fits the bill. Its understated beauty makes it a versatile centerpiece for birthdays, anniversaries, or any event where you want to share a moment of sweetness with loved ones.