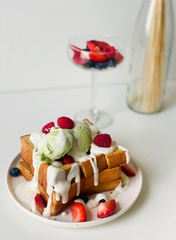 Let's use

Sheng Kee Taiwan Toast to 

make super easy Matcha Ice Cream Toast! 🍵
Just a few simple steps you can enjoy the refreshing Matcha ice cream with soft & crispy honey butter toast to start your wonderful weekend!🍦
Check out the Video Recipe!
Serves: 3-4 People
Ingredients:
✨3 Slices of Sheng Kee Taiwan Toast ✨(Thick Sliced)
✨Butter 40g
✨Honey 5g
✨Your favorite Ice Cream
✨Yogurt
✨Any fruit of your choice!
Direction:
✨Microwave butter and honey for 30s until melted together
✨Take 1 slice of Sheng Kee soft and ✨elastic thick toast
✨Cut the toast, keep the bottom uncut (just gently slice halfway)
✨Cut the other 2 pieces of toast into strips
✨Evenly apply melted butter to each piece of toast
✨Put Toast in oven, 360 F, 15 minutes
✨Stack the baked toast
✨Put fruit on top of the toast
✨Put any flavor of ice cream you want on top
✨Pour on drinkable yogurt and enjoy!