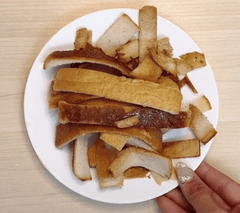 Have some toast crusts leftover from making Taiwanese Breakfast Sandwich or HK Style French Toast? We got you!
This recipe is super simple, addicting, and is an awesome way to use up the crusts!
Click to check out the Video Recipe!
Serves: 2-3 People
Ingredients:
Sheng Kee Taiwan Toast (crusts)
A chunk of salted butter (however much you like!)
1 TBSP Sugar (adjust the amount to your liking)
Direction:
Save the toast crusts!
Heat up butter in a pan
Add the crusts and stir fry until well coated
Stir in sugar, fry until crispy and slightly golden brown and you're done!