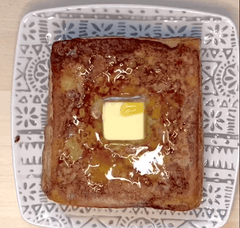 Here is another recipe using Sheng Kee Taiwan Toast! This time, we are using "Thick Sliced Taiwan Toast"
Check out the Video Recipe!
Makes: 1 Sandwich
Serves: 1-2 People
Ingredients:
2 Slices of Sheng Kee Thick Sliced Taiwan Toast
1 TBSP Peanut Butter
1 Egg
1 TBSP Milk
1 TBSP Sugar
A dash of cinnamon
Butter! 
Direction:
Slice off sides of toast
Spread peanut butter on one of the toasts
Place the other toast on top of the peanut butter and set aside
Make the egg mixture: mix together egg, milk, sugar, and cinnamon
Dip the peanut butter sandwich in egg mixture, ensuring all sides are coated
Melt some butter and pan fry the sandwich until golden brown on all sides!
Top it off with some butter and condensed milk or honey and you're done!