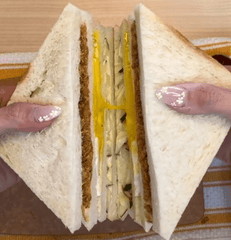 Need some ideas on how to use our Taiwan Toast? Here's one that is versatile and super delicious!
You can easily switch out the cucumber for other veggies and pork sung for any protein of your choice! Give it a try and share with your loved ones <3 
Check out the Video Recipe!
Makes: 1 sandwich
Serves: 1-2 people
Ingredients:
4 Slices of Sheng Kee Taiwan Toast
Cucumber
1 Egg
Pork Sung
Kewpie Mayo
Direction:
Slice off the sides of toast. Save them for Caramel Sticks
Thinly slice the cucumber
Fry the egg to your liking
Now all you have to do is stack all the ingredients in this order: Toast, cucumber, toast, egg, toast, pork sung, toast.
Be sure to spread mayo in between every layer!
Slice the sandwich diagonally and you're done!